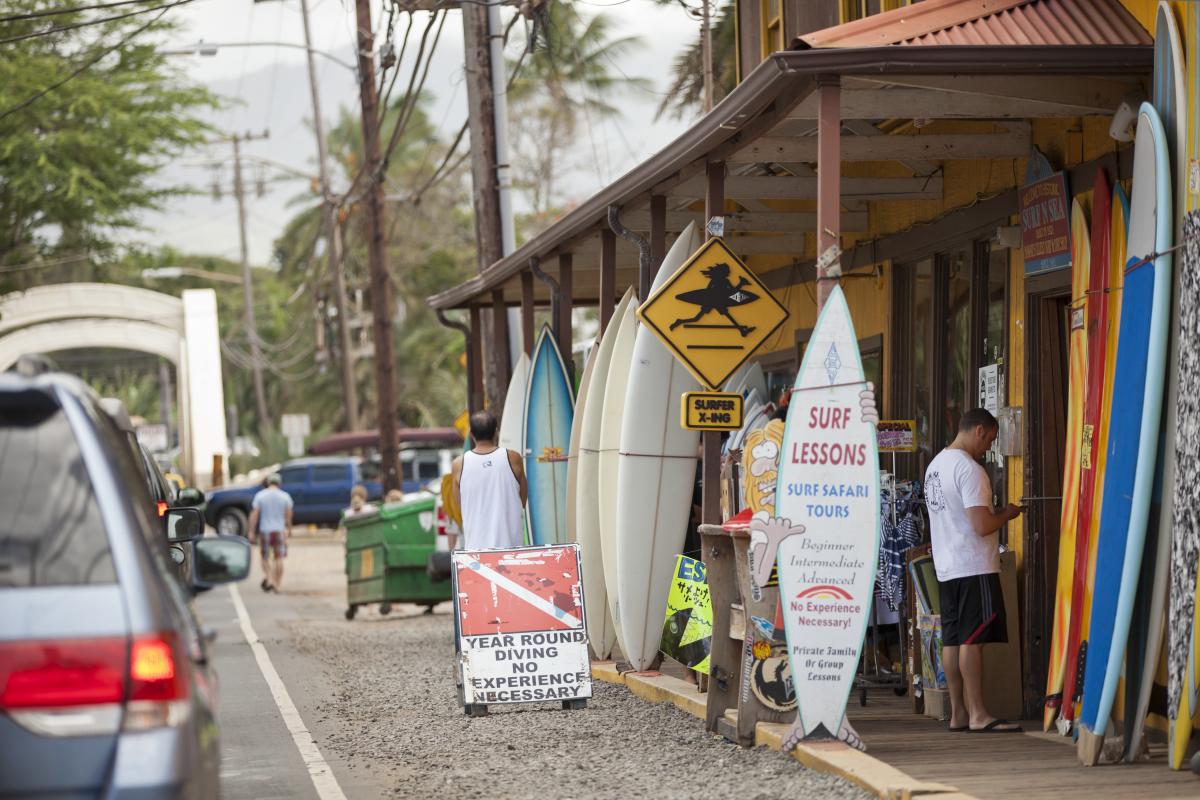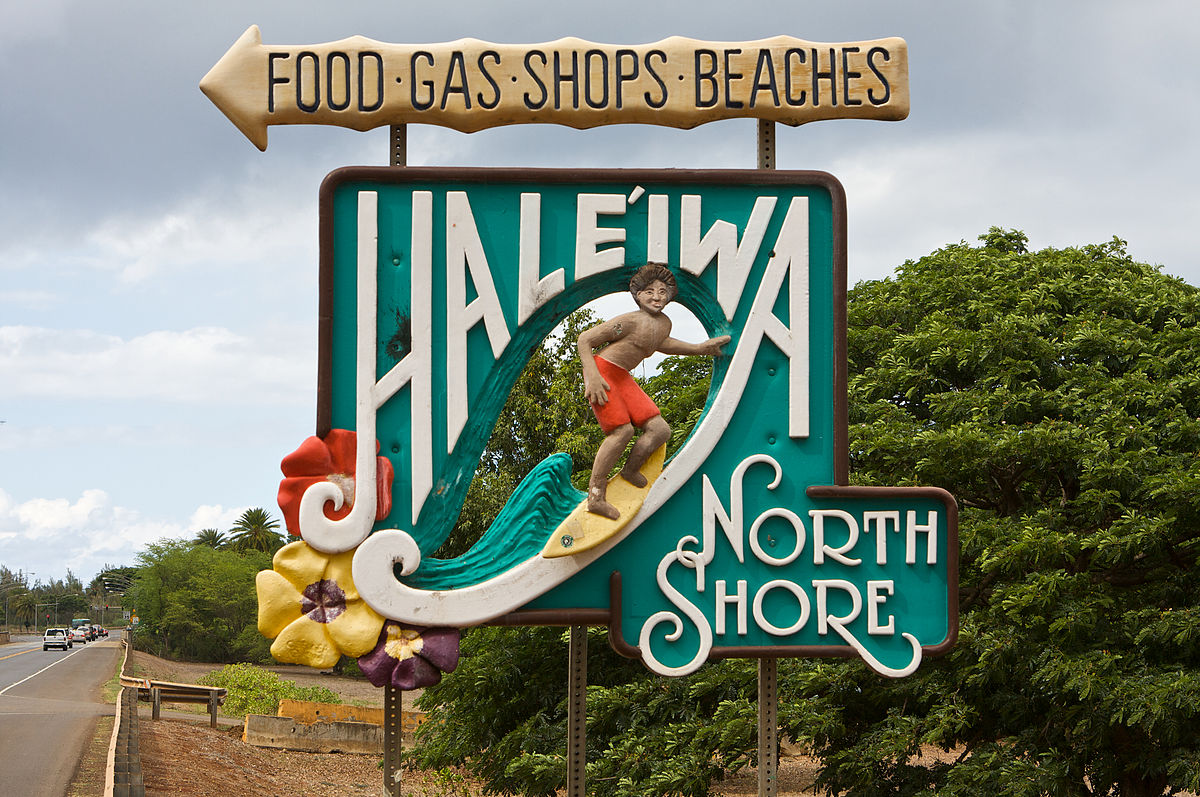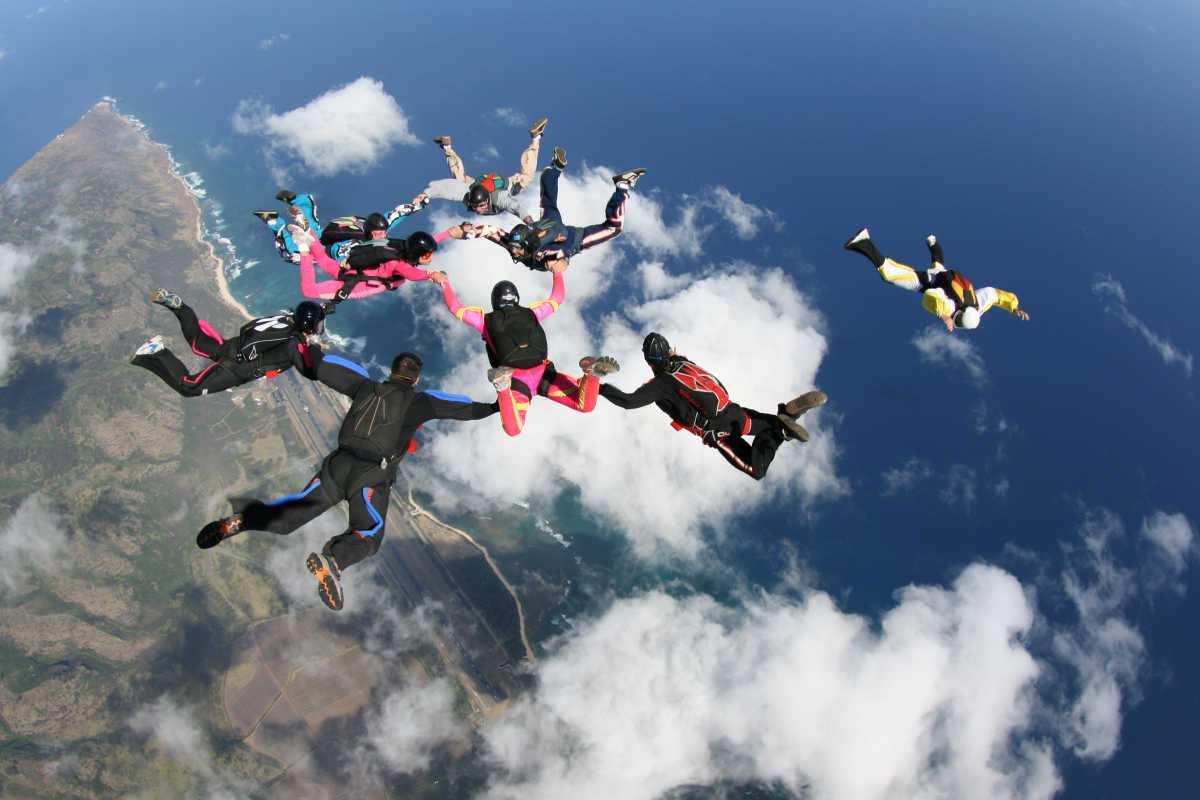 The North Shore is the world famous surfing capital of the world. Recent movies like "Blue Crush" or the prime time television program "Lost" which is filmed in the area, have further heightened the attraction to this area. Our houses sit beachfront or on the edge of some of the most famous surf spots -- Laniakea's, Sunset Beach, Alligators and Waimea Bay. However, the North Shore is not just for surfers. Here you can experience Hawaiian country life. There is Waimea Valley Falls Park, horse pastures, a growing local artist scene and quaint historic Haleiwa Town.
This all combines for a relaxing genuine Hawaiian vacation.
Things to do
Visit Haleiwa Town. This town has succeeded to maintaining its surfing heritage. You don't want to miss visiting this charming town without any buildings taller than two stories and is vintage shave ice stands and hawaiian art galeries. If you are interested in a historic tour of the town call (808) 637-4558 for a 90 minute walking tour. Lean about the town's past, the pioneers that built it and how it became the fameous surf town that it is today. Stops include Anahula Bridge, the Haleiwa shingon Mission, Lili'uokanlani Church, the Waialua Courth House and more.
Shave Ice Stands: Two of the best shave ice stands are located in Haliewa Town Matsomoto's or Aoki'sboth located at the western end of Haliewa Town on the main road. (Aoki's pictured in the artist sketch at the right)
Skydive Hawaii: Just to the east of Haleiwa Town is the small airport where those seeking adventure can find skydiving or gliderplane rides.
Get a Massage on the deck of your Vacation Rental Home listening to the sounds of the waves. Hands in Motion Massage (with 18 years of experience) will come to your home and give you a private massage in your home. They offer Sports Massage, Sweedish Massage, Trigger Point Theraphy, acupressure, Foot Reflexology, Shiatsu, Deep Tissue or a variety of these methods to ease you into the relaxed style of the North Shore. Call 808 295-0683 and let them know you are a client of Hawaii Beach Homes. (License # MAT-2026)
Sports Equipment Rental. You can rent ocean toys at a variety of locations on the North Shore. A popular location is the Surf 'N Sea shop pictured to the right which is located just after the Haliewa Bridge if you are leaving Haleiwa Town and heading towards Waimea Bay.
Dole Plantation. A fun activity for families is the Dole Plantation located a short drive from Haliewa Town. The facilitiy has a pineapple train ride, a maze and other activities related to the planting and harvesting of pineapples from Hawaii.
Eco-Tours. Hawai'i Journey's Tours offers a variety of unique speciality eco-tours. They range from a tour featuring a swim at Wai Hi waterfall, a private tour of a native plant guarden and ancient archaeological site, and exploration of a forested botanital garden and animals to a tour to an ancient sacred birthing site for Hawaiian royalty. Please contact the Hawaii Beach Home Office to request information on additional tour options. Our office will assist you in booking one of these tours if you are interested. (Please ask for Amanda to assist you with tour booking - 800 442 601)
The Polynesian Cultural Center. Enjoy Hawaii's most authentic luau and dinner show at this 42 acre center where you will experience authentic South Pacific cultures as they have existed for thousands of years. Play the Derua bambo druns of Fiji, participate in the Haka'war dance of Aotearoa (New Zealand) and make fire from sticks and cocunts husks in the Samoan Village.
Glider Rides - The Honolulu Soaring Club takes people up for glider rides at the Dillingham Airfield in Mokuleia, which is about 15 minutes out of Haleiwa. Heading towards Haleiwa, turn right at the harbor and follow sights to Keana Point. Open daily 10-5:30. This is quiet a treat. 623-6711.
Polo Games. On Sundays, just before the beach park in Mokuleia, there is apolo field where championship games are held. It's a fun Sunday gathering.
Dune Buggie Rentals - There are 3 wheeled dune buggy rentals just past the Turtle Bay Hilton. they also have "sail" buggies and plenty of space and sand dunes to play around in. The Turtle Bay also has their own dune buggies for rent.
Take Surfing Lessions. A company we would recommend - North Shore Surf Girlshttp://northshoresurfgirls.com/
North Shore Restaurants
Pizza Bob's - Haleiwa Shopping Plaza: A great family style restaurant known for it's excellent thick crust pizza with both the usual and creative toppings. A local favorite. They have other non-pizza items as well. 637-5095

Rosie' Cantina - Good Mexican food with some very reasonabl elunch specials. It also serves breakfast. Located near Pizza Bob's. Bring your own wine. 637-5071.

Haleiwa Joe's - Just across the bridge in Haleiwa Town. Pleasant inside/outside dining offering wonderful seafood and a great salad bar. Try their coconut crusted shrimp dish. - 637-8005

Jameson's By the Sea - Across from Haliewa Park and the Bay. Excellent fresh fish. They are also known for their Mai Tais and Irish Coffee. - 637-4336.

Kua Aina Sandwish and Burgers - Located next to Hawaii Surf and Sail in Haleiwa Town. You will see all their umbrellas and tables streetside as you enter town from the Haleiwa Bridge side of Town. Well known for their Mahi Mahi sandwiches and tasty burgers. - 637-6067

Lei Leis at the Turtle Bay Hilton - Located just next to the golf course a wonderful place to just hang out and enjoy the beautiful view of the golf course and mountain range behind. 293-8811

Wailua Bakery - A must for lunch. A charming local sandwich shop where they bake their bread and roast their turkey daily. Wonderful smoothies and fresh baked cookies are also on the menu. A local surfer hangout. A bright yellow wood building tucked right next to Fujiokas Supermarket in Haleiwa Town.

Cholo's - for Mexican Food. Located in the Haliewa Market Place. Their fish tacos are fantastic.

North Shore Sushi - A surfer style suchi bar where you sit on floor cushions and eat sushi while watching surfing videos on a large screen. Located in the Haleiwa Market Place.

The Coffee Gallery - A classic coffee shop in the Haleiwa Market Place where they sell fresh roasted coffee grounds.

Starbucks - Located next to the Foodland just past Waimea Bay. A favorite around the world.
Super Markets
Foodland - located just past Waimea Bay across the street from a local fire station.
Fujiokas - located in Haleiwa Town. You can't miss the large parking lot and its bright colorful sign clearly visible from the main road which passes through the center of Haleiwa Town.
Costco - There is a costco located just off of the H-__ freeway heading out to the North Shore. Take the Kahuku off ramp and it is just off of the freeway.
Celestial Foods - The Health Food Store. It is small but contains many of the basics and has organic fruit and vegetables with a small snack bar in the back. Located on the west side of Haleiwa Town.
North Shore Services
Nail Salon and Spa: Located conveniently in Haleiwa Town. Full menu of services available atwww.northshorenails.com